Your website is the digital storefront for your business, and it's arguably the single most important factor in your success. Now more than ever, it's crucial to have a good web design that will attract customers, establish trust, and drive conversions.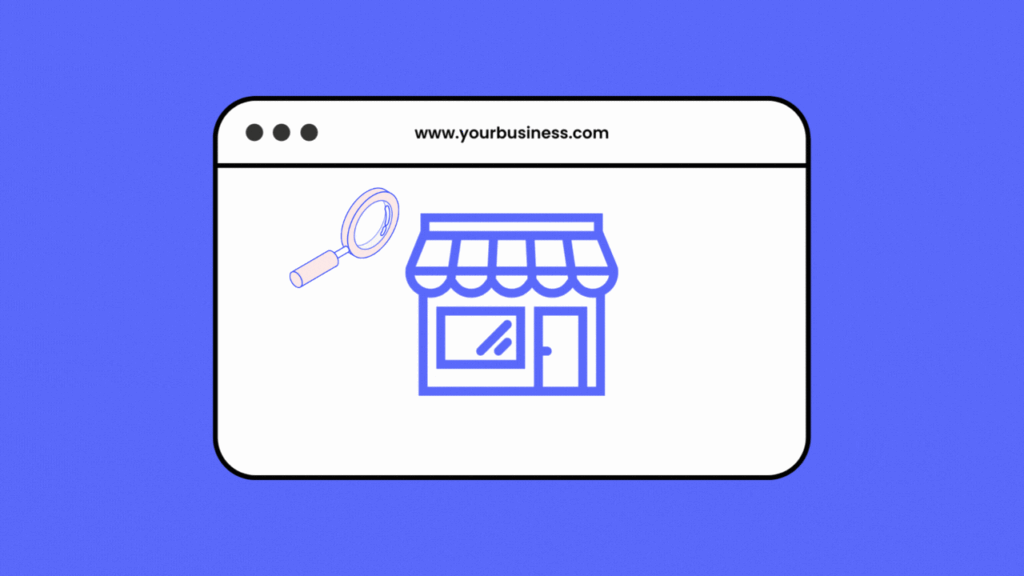 So Why Website Design is Important for Business? A well-designed website means more than just a pretty face—it needs to be user-friendly, intuitively navigable, and secure.
A visually pleasing website design is essential if you want your business to standout in today's competitive online landscape. A great website design can make all the difference between a successful online presence and one that falls flat. In this article, we'll discuss why website design is so important for businesses of any size and how to ensure yours has it all—from esthetic appeal to usability.
Why Web Design is Important
No matter what kind of business you run, having a good website design is important for your business. Whether you're an e-commerce store, a physical store with an online presence, or a service-based business, your web design is the first thing potential customers interact with—so it sets the tone for their entire user experience with your brand.
With that in mind, here are some of the primary reasons why website design matters:
It creates a strong first impression: If a potential customer visits your website and finds it confusing or difficult to navigate, they may not stick around long enough to get to know more about your business. On the other hand, if your website looks professional and is easy to navigate, this will give them a positive and good user experience.
It reflects your brand: Your website should reflect the look and feel of your brand's personality. This helps customers easily identify what kind of products or services you offer as well as giving them an understanding of who you are as a business.
It drives conversions: If designed properly, your website should be able to turn visitors into leads and leads into paying customers. An effective website design can provide users with clear calls-to-action that help guide them to take action on your site.
7 Effective Good Website Design Elements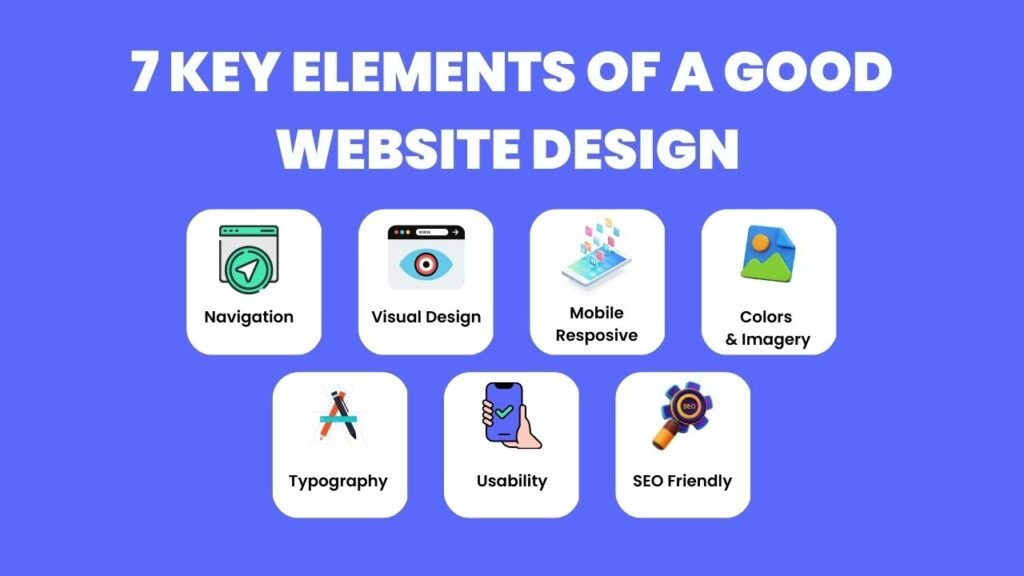 When it comes to website design, there are a few different elements that can make or break the success of your business online. Keep in mind that visitors will form a first impression of your website in as little as 50 milliseconds—so it's important to make sure that their experience is positive and effective.
Here are 7 key elements of successful website design:
Navigation: Make sure your navigation is clear and easy to use. This ensures that visitors can quickly find the information they're looking for on your site.
Visual Hierarchy: Establish a visual hierarchy with the most important elements of your page being at the top. You want to ensure that visitors are seeing what you want them to see first.
Mobile Optimization: As mobile use increases, make sure that your website design is optimized for mobile users. This means having responsive design, larger font sizes, and simple navigation menus.
Colors & Imagery: Use colors and images strategically to create a pleasant esthetic and draw people into the page. Consider contrasting colors, or even an accent color, to draw attention to certain sections or elements on your page.
Typography: Get creative with typography! Not only can it help you create dynamic content, but it also allows you to communicate better with viewers by creating visual hierarchy for them and also setting a tone for different messages on your site.
Usability & Accessibility: Make sure you're taking into account usability and accessibility when designing your site too! From making sure everyone has access to buttons or forms, no matter their impairment type, to simplifying processes as much as possible – usability & accessibility should be front of mind
SEO-Friendly Design: A successful website should be designed with SEO in mind, optimizing elements such as URL structure, heading tags, image alt tags, and internal linking. This helps search engines understand and rank your website, making it more visible to your target audience.
What Makes an Attractive Website Design?
When it comes to making an attractive website design, there are a few things that you should be aware of.
Appealing visuals
First and foremost, visuals are incredibly important when it comes to creating a great website. Good visuals attract people to the website and make them want to stay. This means using colors, shapes, and images that fit with the overall branding of your business and create a cohesive look for your website.
Easy navigation
If you want people to stay on your website, it's important that your navigation is simple and easy to use. This means creating clear pathways from page to page so users can find what they need quickly and easily without getting frustrated or lost. Menus should be intuitively designed so users know where they're going without having to think too hard about it.
Responsive design
Finally, in this age of mobile devices, it's important that your website is designed with responsiveness in mind. This means that the design elements are optimized for different device sizes so users can access them easily on whatever device they may be using—desktop, laptop, tablet, or smartphone.
By keeping these three things in mind when designing a website—appealing visuals, easy navigation flow, and responsiveness—you'll have a much more successful site that looks great and is easier for users to navigate.
Creating a Powerful Landing Page
Your website's landing page is the first impression that potential and existing customers get. A good website design sets the mood for the whole experience. It can also shape how visitors interact with your website and make sure they don't leave without taking action.
Professional Appearance
Having a professional appearance is important, no matter your industry. Making sure all the components of your website look great helps you stand out from the crowd and build trust with potential customers. It also lets them know that you take your business seriously and have put thought into creating a website that is visually appealing and easy to navigate.
Mobile Responsiveness
It's important to make sure your website is accessible on all devices, including those used by mobile users. A mobile responsive design ensures that all of your content is optimized for mobile devices, so customers can access it easily wherever they are.
User Experience (UX)
Having an amazing user experience (UX) on your website sets it apart from all the others out there. It should be easy for visitors to find what they're looking for, make purchases, or contact you quickly and simply. Good UX will keep people on your site longer and increase their chances of taking action—which is exactly what you want!
Benefits of Using Visuals and Animations in Web Design
Websites that work effectively usually have a good combination of visuals and animations. You may not know this, but it's important to use visuals and animations in website design because they can help make your business more attractive to customers and help you stand out from the competition. Here's why:
Increased Engagement
Using visuals and animations on your website helps engage people more than a website without them. This could be by using an interactive element, such as an animation or video, to draw people in. Animations can also help guide visitors through your website in an intuitive way – think of how a homepage carousel guides you through popular products or services.
Creative Experiences
Using animations in web design can help create a memorable experience for users. It adds a layer of fun, creativity, and variety that makes the user's journey more enjoyable. Animation can also be used to bring brand elements to life, such as introducing special offers or new products – it's like having your own mini commercial on the page!
Improved Visual Presentation
Using visuals and animations is also beneficial for presenting information in an easy-to-understand way. Animations can make complex topics easier to understand as they often make content come alive. They are also better for conveying large amounts of information quickly than static text or images – think graphs, charts or flowcharts – which might bore users if presented as text alone.
How to Optimize Your Website for SEO
You might not know that it's important to optimize your website design for SEO — that is, search engine optimization. After all, if people can't find your website, they won't be able to visit it and decide whether to become customers.
So how do you optimize your website design for SEO? Here are a few tips:
Focus on Keywords
Inserting the right keywords into your website—including in the URL, page titles, headings, and content—helps search engines index your pages more efficiently and thus increases your visibility in the search engine results pages (SERPs).
Mobile-Friendliness
Having a mobile-friendly site is essential for getting found on Google these days. Make sure your site is responsive and optimized for smaller screens – this means ensuring images don't take ages to load and making navigation as simple as possible.
Site Structure and Internal Linking
Organizing your content logically will help both users and search engines find what they need quickly and easily. Internal linking also helps keep visitors on your website longer by encouraging them to explore more of its pages.
There are lots of other things you can do to optimize your website design for SEO, such as using header tags, optimizing images and using social media to increase visibility. So it's definitely worth taking a look at how you can make sure your site is optimized for SEO so more potential customers can find you online.
Conclusion
Your website design is a reflection of your business and is incredibly important in boosting your bottom line. It can help create an impression of your brand and give customers a sense of what to expect. It's one of the most cost-effective methods for increasing your online presence and building credibility with potential customers.
Website design can also have a huge impact on how well your website is optimized for search engine rankings, which can be a great way to drive more traffic to your site. Last but not least, a solid website design can help your business stand out and give you a competitive edge.
In conclusion, website design is key to successful business performance and should be given the attention it deserves. Investing in a professional website design can help you reach your goals, create high-converting webpages and lead to more sales.
FAQs
Why is website design important for businesses?
Website design is important for businesses because it can impact user experience, brand perception, and ultimately the success of the business.
How can website design impact user experience?
A well-designed website can make it easier for users to navigate, find the information they need, and complete desired actions (such as making a purchase). A poorly designed website can frustrate users and drive them away.
Can a business succeed without a well-designed website?
While it is possible for a business to succeed without a well-designed website, it is becoming increasingly difficult in today's digital age. A website is often the primary way that customers learn about and interact with a business, so having a website that is easy to use and visually appealing can be critical to success.
What role does website design play in brand perception?
A website is often the first impression that a potential customer has of a business. A professional, visually appealing website can make a positive impact on brand perception, while a dated or poorly designed website can give the impression that the business is unprofessional or not trustworthy.
What are some common mistakes that businesses make when designing their websites?
Some common mistakes that businesses make when designing their websites include cluttered layouts, confusing navigation, slow loading times, and lack of mobile responsiveness. It's important to avoid these mistakes in order to create a website that is user-friendly and effective.